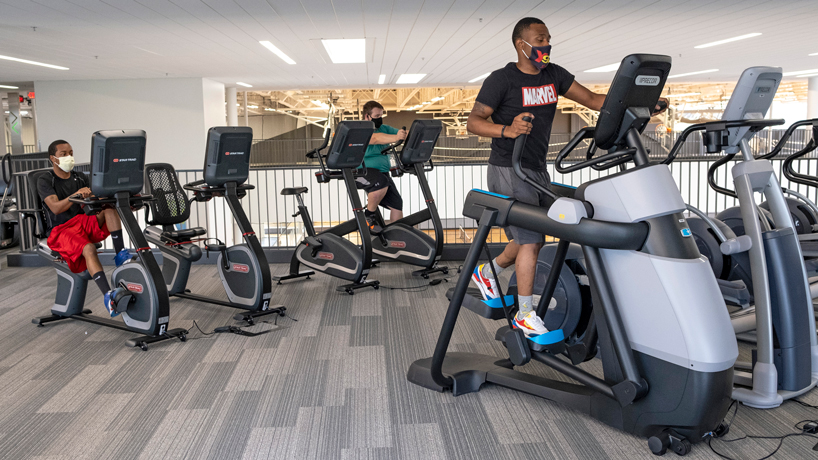 UMSL Recreation and Wellness Center Launches New App, Encourages Students to Get Involved – UMSL Daily
As the fall semester begins, it will be easier than ever for University of Missouri-St. Louis students to enjoy what Leisure and wellness center has to offer.
Emily Davidson, associate director of the RWC, said staff members worked over the summer to launch a new app for students, as well as other RWC members, and update the centre's software system. .
The app, Recreation on the UMSL campusis currently available for download via Apple and Google app stores.
"Essentially, it's a much more user-friendly version of what we had before," Davidson said. "So they can check into the building with, sign up for group fitness classes, book a lane to do laps in the pool, buy a program or service through it. . There is an announcement function on it.
RWC's old system was one of the precursors to campus recreation management software and had become obsolete, so staff decided to upgrade to Automation of recordingsan integrated campus recreation platform that aims to make recreation facilities "the hub of campus life".
Davidson and Katie Haarmann Coffman, Marketing, Communications and Special Events Coordinators, said the app will make it much easier to enjoy RWC's wide range of programs, especially group fitness classes.
"It's a great opportunity," Davidson said of the classes. "I like to say it's a low-stress environment. You're in one of our group fitness studios with a small group of people and an instructor teaching you what to do. It's more of a cozy space to get started and meet other like-minded people.
Sessions include a variety of activities, including barre, high-intensity interval training, yoga, and Zumba. Davidson added that all group fitness classes are included with student memberships, so there is no additional cost to sign up. They take place weekly throughout the semester, and schedules can be found on the RWC website.
At the start of the COVID-19 pandemic, the RWC worked diligently to adapt and provide digital options to members. However, this semester most programs will be in-person, although virtual and hybrid personal training is available.
Davidson noted that personal training – in-person or virtual – is tailored to the fitness goals of individuals. Based on an initial investigation of these goals, the RWC matches members with a certified personal trainer. The program is fee-based, though students get the lowest rate, and members can choose from packages that include one, five, 10, or 20 sessions.
In addition to group fitness classes and personal training, intramural sports also offer students the opportunity to get involved on campus.
"Our intramural sports aren't necessarily about competition, but more about teamwork, making friends and connecting," Davidson said.
The season begins with outdoor soccer and indoor hockey, which will begin next week. Ahead of the fall holidays, the RWC will host a badminton doubles tournament on October 17 and a dodgeball tournament on October 18. The semester will end with volleyball and basketball towards the end of October.
In addition to the regular programming, the RWC organizes a list of events and special programs.
Coffman said the center is in partnership with tiny newts to organize the Triton Family Kickoff from 10 a.m. to 2 p.m. on Saturday. The RWC will welcome members of the UMSL community to enjoy crafts, free food, games and raffles. Family home evenings will also be held on the second Friday of each month in the fall.
For those looking to test their strength, there will be a bodybuilding event on October 8. Participants will compete in three events: bench press, deadlift and squat.
"It's still a good one," Coffman said. "It's had a good turnout the last few times we've had it."
Coffman is particularly excited about RWC's new "Couch to 5K" program, which he runs in cooperation with UMSL Alumni 5K Run & Walk.
"If you sign up for our couch program at 5K, you are eligible to be entered to participate in the Alumni 5K," she said. "Our program will be managed by Dominica Rooks, who is a track athlete as well as one of our personal trainers. She'll be taking a class for a few weeks, getting people ready for a 5K.
The program begins on Wednesday and will run every Wednesday from 4-5 p.m. until October 12.
Although there are many activities for athletes, Davidson explained that the RWC is not just for training. The school is also a place to meet other students and build community. She pointed to the study areas available downstairs and noted that board games, coloring books, origami paper, and puzzles are available at reception.
Whether students prefer Scrabble or squats, they can take a break from RWC to improve their mental health and reduce burnout.
"It's something they should use," Davidson said. "While they're in class and working on academic subjects, it allows them to balance that with their health and well-being and the relief and alleviation of stress."
Students looking to find a new hobby, improve their fitness, or meet new people on campus can stop by anytime during opening hours for a tour.
"We have a lot of options here," Coffman said. "To find what works best, you just have to come and try it. Just check it out.

Short URL: https://blogs.umsl.edu/news/?p=94895