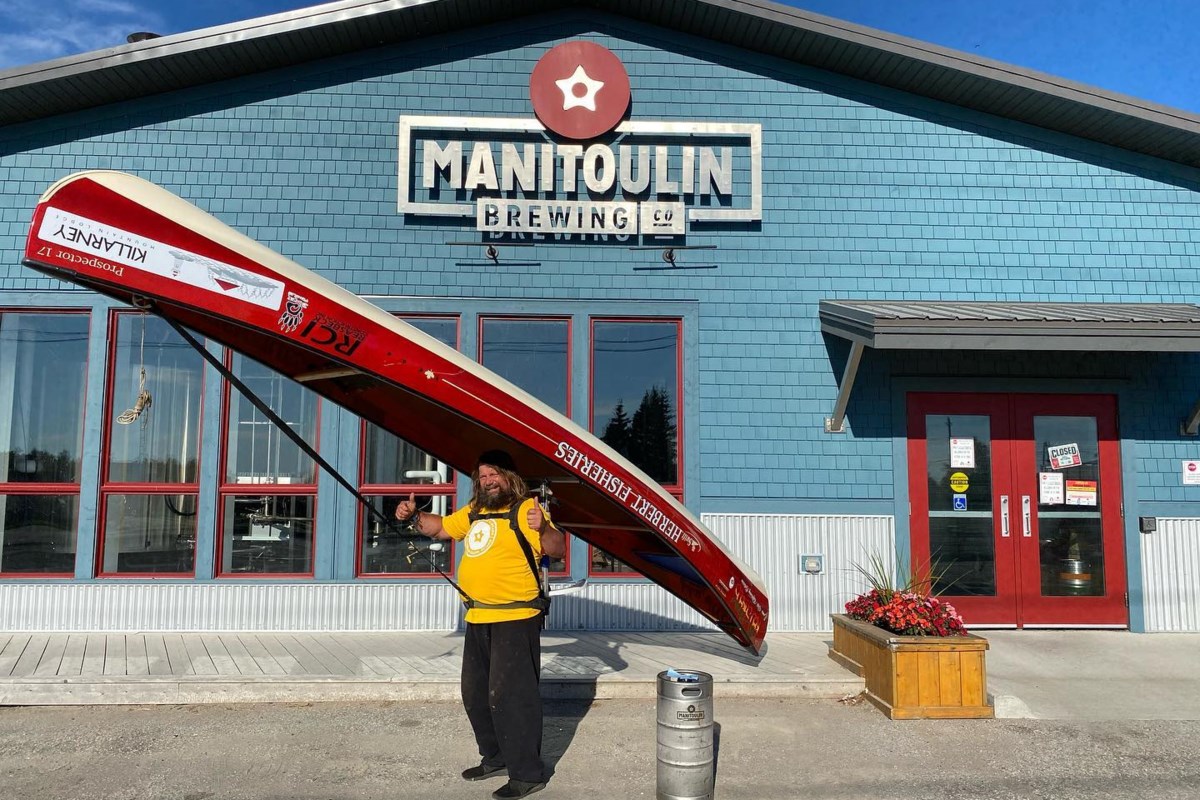 Manitoulin Brewing Company Creates Innovative App to Promote Manitoulin Island and Local Businesses
With the help of the Sault Ste. Marie Innovation Centre, the craft brewery was able to successfully develop its Manitoulin Adventure Map application
Almost ten years ago, Nishin Meawasige and his business partner, Blair Hagman, came together and had the idea of ​​starting a craft brewery, an idea born out of a strong passion they both shared in relates to craft brewing. .
Looking for a suitable place to settle and start their small nano-brewery, Meawasige says he was drawn to Manitoulin Island for a number of reasons that made it the perfect place to start craft brewing.
"What really drew me to Manitoulin Island is that it has a lot of history and culture, and a very rich heritage," Meawasige said.
"It prides itself on being the largest freshwater island in the world, and it has a diverse community, as there is an almost equal split between indigenous and non-indigenous people who reside in the communities here. Blair and I just knew we wanted to start our brewery here.
Meawasige has resided on Manitoulin Island for about eight years now, and it was during this time that he successfully launched the Manitoulin Brewerya craft brewery that Meawasige wanted to differentiate from other breweries by actually contributing to and showcasing Manitoulin Island itself.
"We wanted to make sure that when we launched this brewery, we would be more than just the craft beer we produce. We also wanted to be a significant contributor to the local economy. We work with other businesses, and we want to do our part to help truly create opportunity and prosperity on Manitoulin Island," said Meawasige.
"When you look at our products, the majority of them are named after landmarks of Manitoulin Island. These are real places, real stories, and real history, and we want to let people know about these places so they can have the opportunity to visit them themselves in person.
Since the Manitoulin Brewing Company distributes its landmark-inspired products all over Ontario, the craft beers acted as a form of advertising to potential tourists who may not be very familiar with Manitoulin Island.
However, not wanting to rest strictly on the laurels of their already established ideas, the Manitoulin Brewing Company set out to come up with an even more innovative idea that could more effectively encourage locals and tourists to explore the variety of businesses and local experiences that they could not have. Be aware of.
And that's what led to the creation of the Manitoulin Adventure Map smartphone app.
The app is a tourism marketing app that the Manitoulin Brewing Company has been working on since August of last year, with the goal of being an engaging tool that tourists and locals can use to learn about all the different businesses and experiences that Manitoulin Island has to offer. , while ensuring both prosperity and growth for local businesses.
So how does the smartphone app work?
"The app is all about location-based marketing," Meawasige said. "Essentially, every business that signs up to be part of the app has their GPS coordinates tagged with their profile. geofence is then created around that business, and when tourists or visitors visit a particular business, they receive a notification that they have accumulated points.
"As they accumulate points, they can then redeem them for rewards including discounted products, free promotional items, etc. It is through this system that we want to encourage visitors to learn more about our local businesses and the culture behind those businesses.We want to help build stronger relationships between Manitoulin Island businesses and the consumers who visit them through our app.
Being new to the world of smartphone app development, Meawasige admitted that he needed help along the way to ensure the app would be able to succeed.
468 Communications were the technical developers of the Manitoulin Adventure Map app, and they helped the Manitoulin Brewing Company set up the smartphone app by providing a turnkey solution for the project.
The other organization that Meawasige says provided significant assistance to the Manitoulin Brewing Company and the development of the app was the Sault Ste. Marie Innovation Center.
"We introduced the app to the Sault Ste. Mary Innovation Center. They have a program called the Innovation Acceleration Program, and after I pitched the idea to them, they were really excited from the start! Since then, they've been so supportive and so great, and our relationship has only grown," Meawasige said.
Katie Goodall, Innovation Acceleration Program (IAP) Specialist for the Sault Ste. Marie Innovation Center (SSMIC), says the IAP program is a useful funding tool that the Innovation Center provides to a variety of businesses, which can help those businesses in many different areas.
"The program provides funding to small and medium-sized businesses, to assist in the development and commercialization of an innovation (new product, process or service)," Goodall said. "The funding (provided by FedNor and administered by SSMIC) can cover up to $10,000 in project costs.
"Areas that can be covered are planning and development, sales and marketing, and business management and improvement. More often, however, we see companies showing up for projects related to product development and testing, intellectual property protection, and marketing/communications.
Goodall says the IAP funding was able to support the Manitoulin Brewing Company with its app, use of innovative marketing technology, and "the completed marketing plan and branding to support the launch of the application and their Manitoulin Adventure Kit product. The Manitoulin Adventure Kit is a six-pack of craft beers (to be launched alongside the app) that contains a QR code that will allow consumers to scan the code and download the app.
Having seen first-hand how the Innovation Acceleration Program has been able to help the Manitoulin Brewing Company with its application, Goodall says it makes her happy to see companies making successful progress in their innovative ventures through the IAP program.
"Seeing the IAP program and its funding impact businesses is a truly rewarding experience. It's so rewarding to know that our services – and the funding we administer – are helping to start businesses, grow them and support innovation in Northern Ontario.
With the app launching soon, there are currently places available for local businesses to sign up and be part of the app's inaugural year, although there are limited places available, which means it's on a first come, first served basis. .
Meawasige says companies can participate in the application program at no cost for the first year.
The reasoning behind this decision is that the brewery realizes that there are local businesses recovering from the challenges of the COVID-19 pandemic, and did not want to create another challenge on top of that.
The other reason is that this is the app's pilot year, and Meawasige says the Manitoulin Brewing Company will thoroughly analyze what works and what doesn't throughout the pilot year of the app. app, and will look for ways to constantly improve the app accordingly. .
"With the app, we want to contribute to the success of collective enterprises on Manitoulin Island," said Meawasige. "Because it is through this global solidarity and mutual support that will set us apart as a unique tourist destination."
If you would like to learn more about the Manitoulin Brewing Company, and the products/services/events they offer, you can check them out here.
And, if you're a Manitoulin Island business looking to sign up for the Manitoulin Adventure Map app, You can register here.
For more information on services (such as the Innovation Acceleration Program) that the Sault Ste. Marie Innovation Center offers innovative companies, you can find them here.