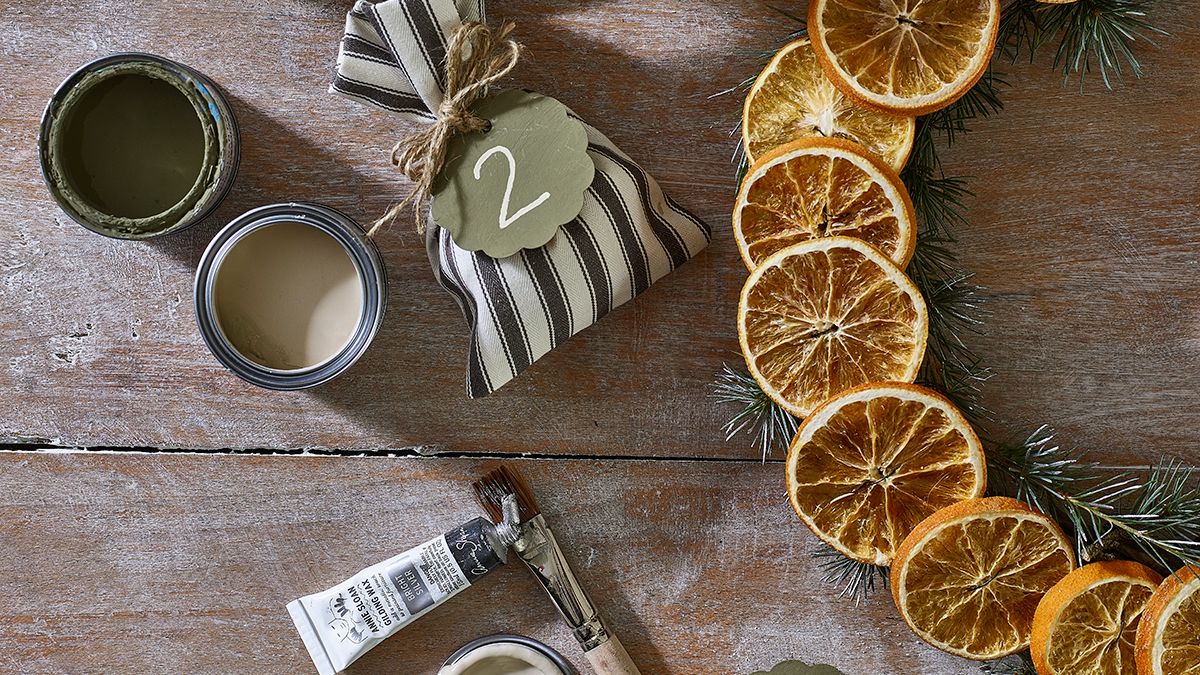 Christmas craft ideas – simple and sustainable styles to DIY in December
'Tis the season to embrace the charm of home and try out all the Christmas craft ideas while sipping mulled wine and watching Vacations for the 17th time. We're so keen this year on having a more sustainable Christmas and not filling our house with things that will inevitably end up in the landfill, so this year we're going to get crafty and go for a more homemade Christmas that won't just be beautiful and be full of personality, but will also be much better for the environment.
So to practice what we preach, we've rounded up all the festive DIYs we're going to try this year to inspire you to get crafty too. From making classic wreaths to DIY Christmas decorating ideas, there's a craft here for every style and ability.
Simple Christmas Crafts to Try
1. Fill the ceiling with paper stars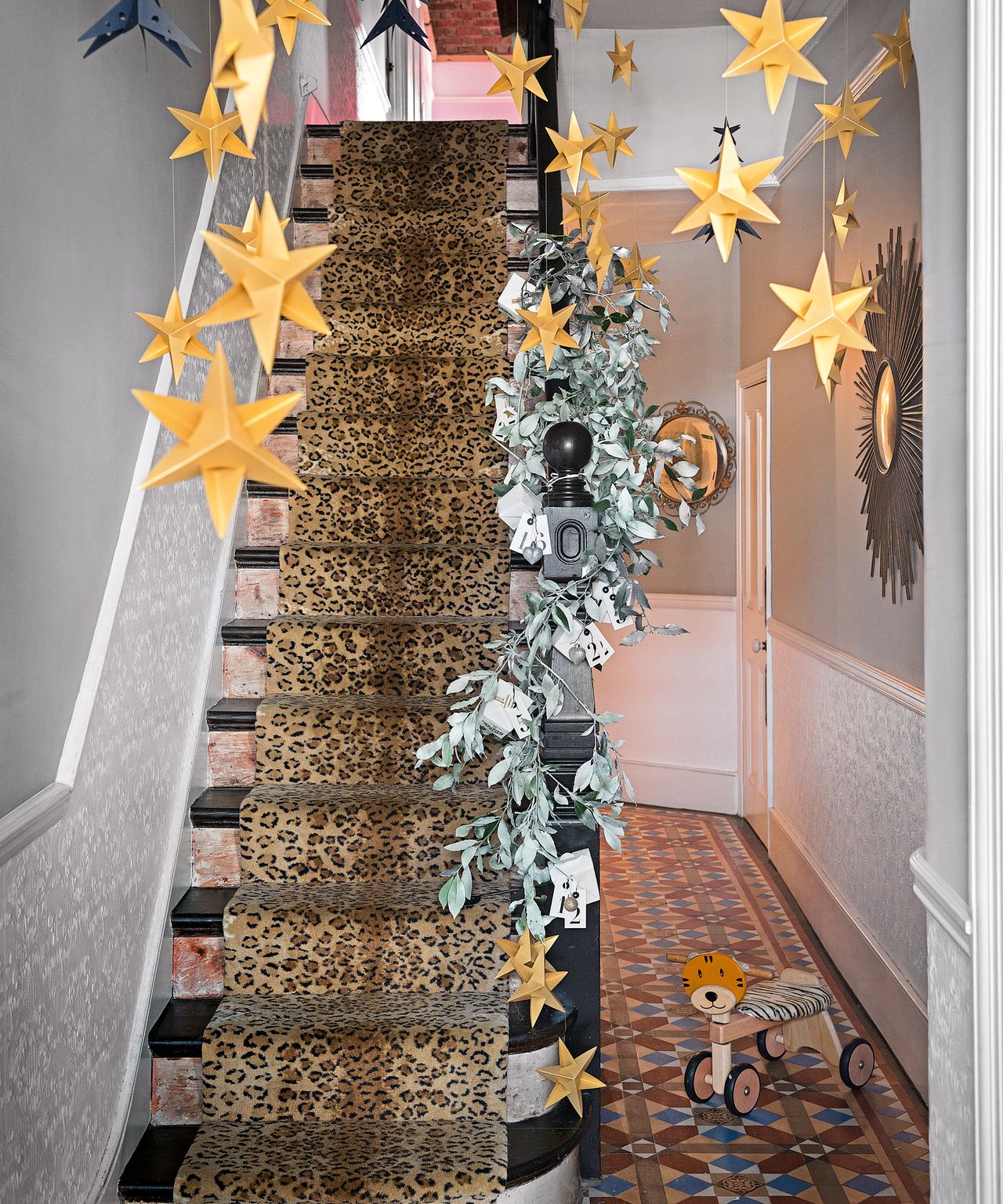 Old fashioned paper decals have been a Christmas trend for years and they just keep getting bigger. They're eco-friendly, filled with nostalgia, and so simple to DIY. There are many DIY paper decorations you can try, from simple cut-out snowflakes to origami stars that fill the ceiling of this hallway. Whichever style you choose, more is more, what could be more inviting than a room filled with paper chains? Or a gorgeous display of snowflakes hanging over the Christmas table.
So throw on a festive movie, tie up the family, and sit down with just paper and scissors to create cute decorations you can hang all over the house. And don't be too picky if they don't turn out perfect, that's part of the charm.
2. Create a crown that suits your style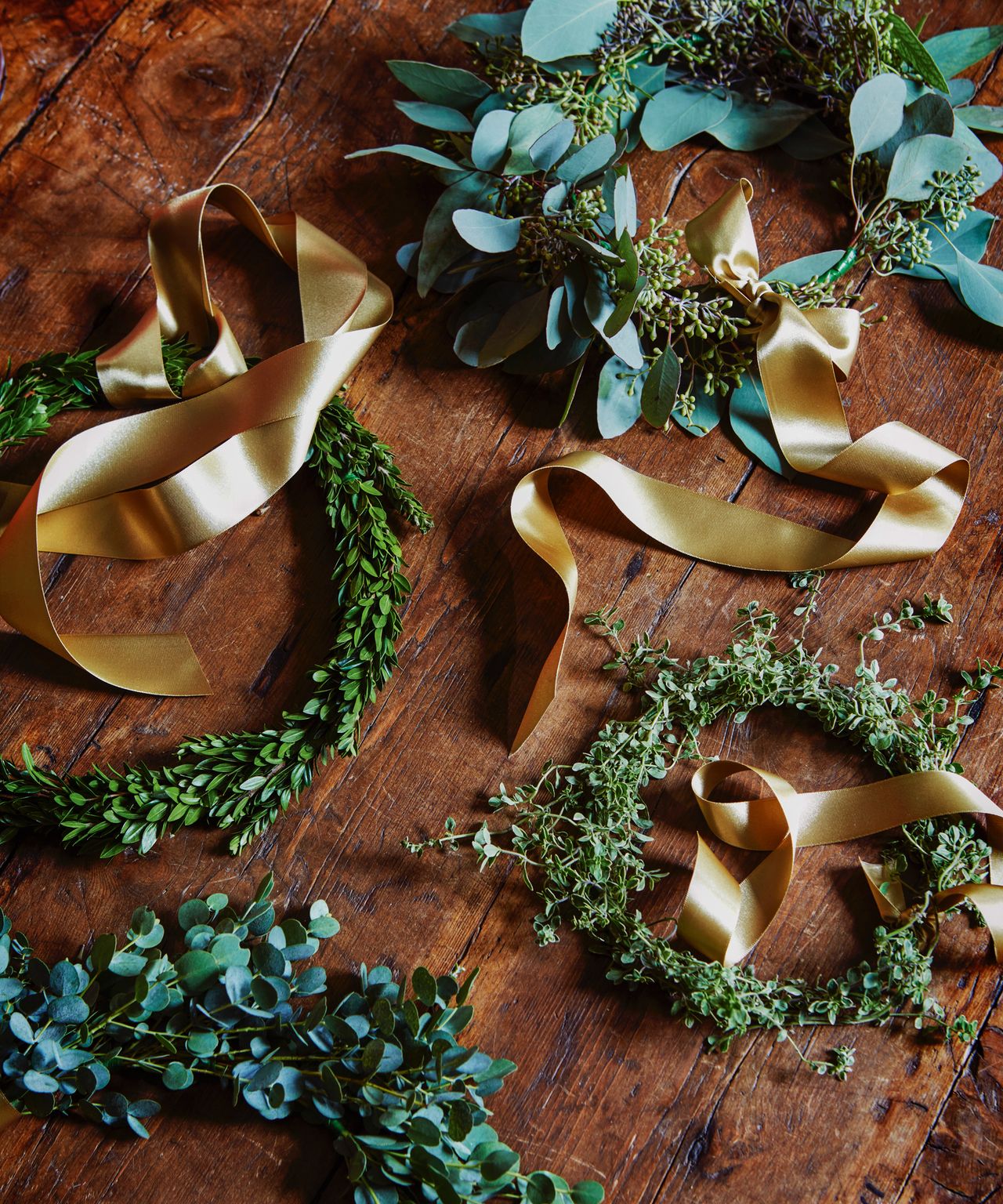 Wreath making is one of our favorite Christmas hobbies, and if you haven't made one yourself before, it's surprisingly easier. Plus, it's even easier when you buy a pre-made willow or metal base, or a foam ring. Then all you have to do is fill it with lush evergreens, most of which you can find in your garden.
We spoke with expert florist Philippa Craddock, who gave us her top tips for making a Christmas wreath, so head over to our step-by-step guide for everything you need to know.
3. DIY a beautiful Christmas centerpiece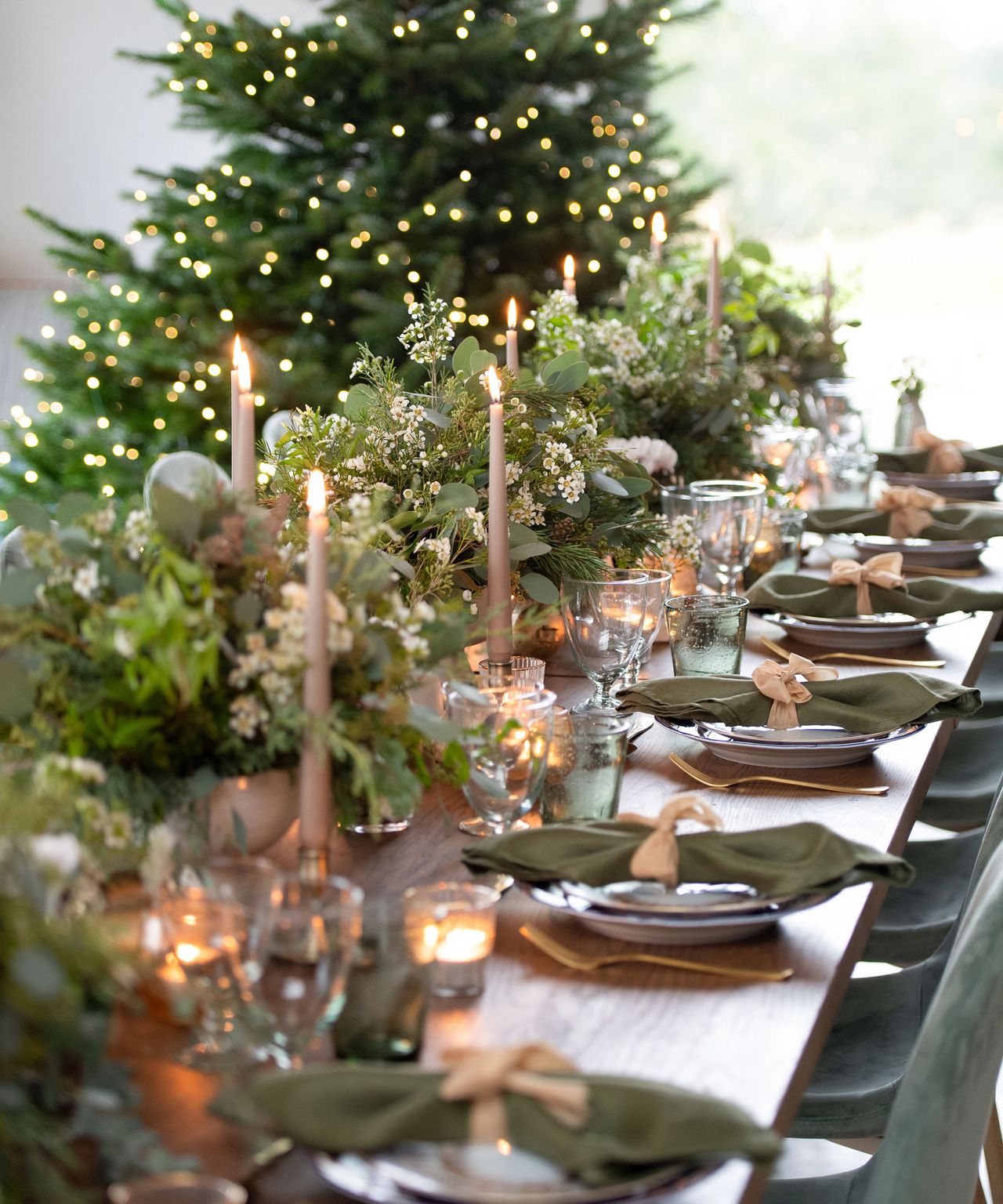 Much like a wreath, making a Christmas centerpiece can often be made from foliage that you can forage. And you can really get creative too, creating something that reflects your style and matches the vibe you're going for for your Christmas table decor, whether it's chic and minimal, or rustic country style.
There are many ways to create a centerpiece, but a very simple one is to fill a compote bowl (essentially a vase with a stem) with soaked floral foam, then start with evergreen pieces like fir and the box to disguise the foam. Add a few tendrils of ivy, to drip down the sides of the vase. Then stir in sprigs of holly for added texture and contrast with their lovely waxy leaves and berries for a splash of color. You can create something like this in minutes, just be creative and play around with your arrangement until it looks complete and festive. And you can make a collection of them to run across the back of your table for a truly spectacular centerpiece.
4. Print your own gift wrap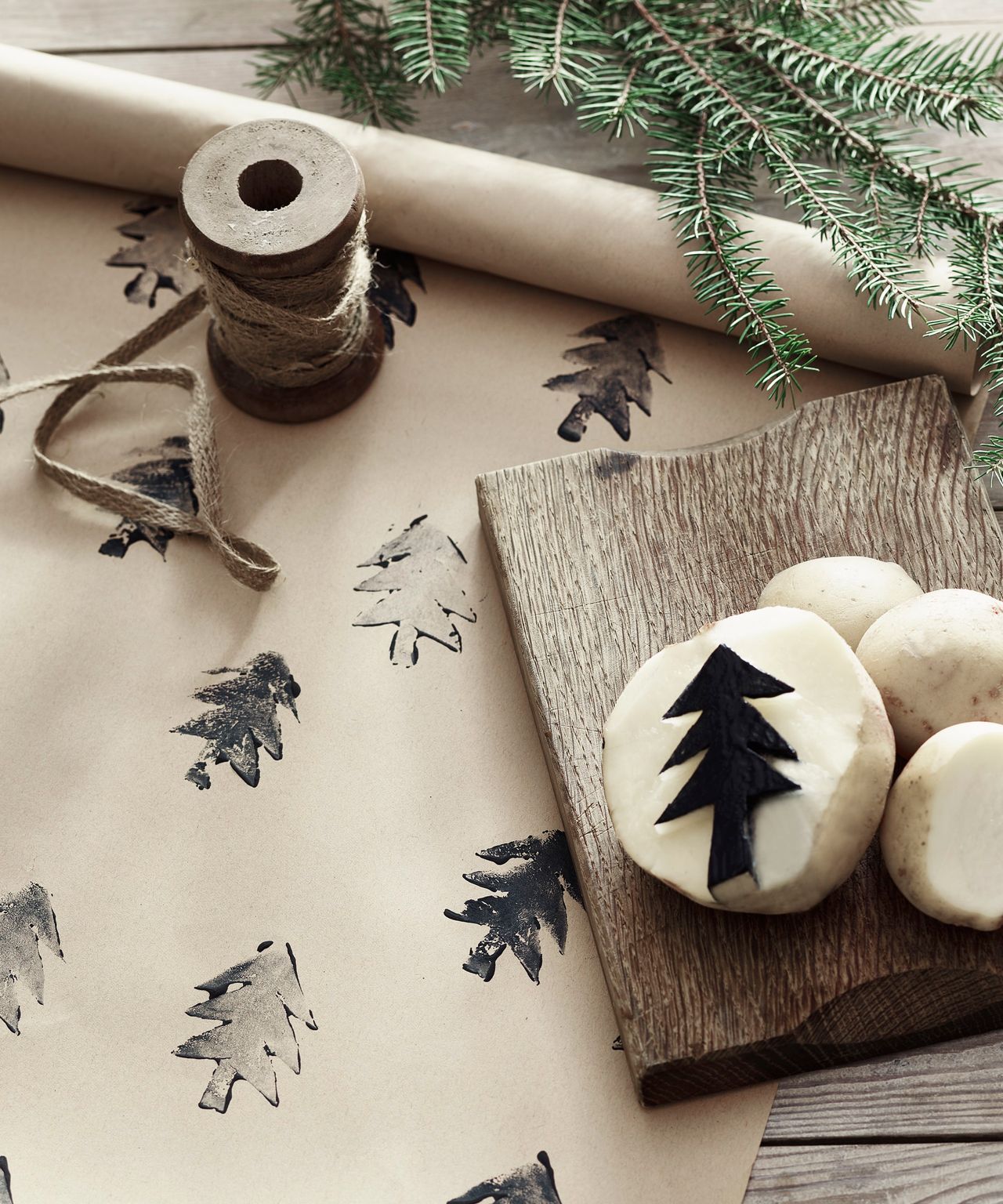 Doesn't that bring you back? You might think potato printing is a Christmas craft for kids, but trust Annie Sloan for making it infinitely more elegant and proving you can get really effective, even chic, results using a potato. This is a fun and very easy way to make your own wrapping paper, using only brown paper as a base. Durable and cute.
If you've never used this ancient printing method, it's a very fine art that takes years of practice. Of course we're kidding, just get a potato, cut it in half and draw your design on the potato, then cut it up. Then use a brush to cover the shape with your color of choice (white looks nice on brown paper) and just print it on your paper. Again, don't worry if it looks a little shabby, it will look great once you add some ribbons and they're all piled under the tree.
5. Dry oranges for wreaths and garlands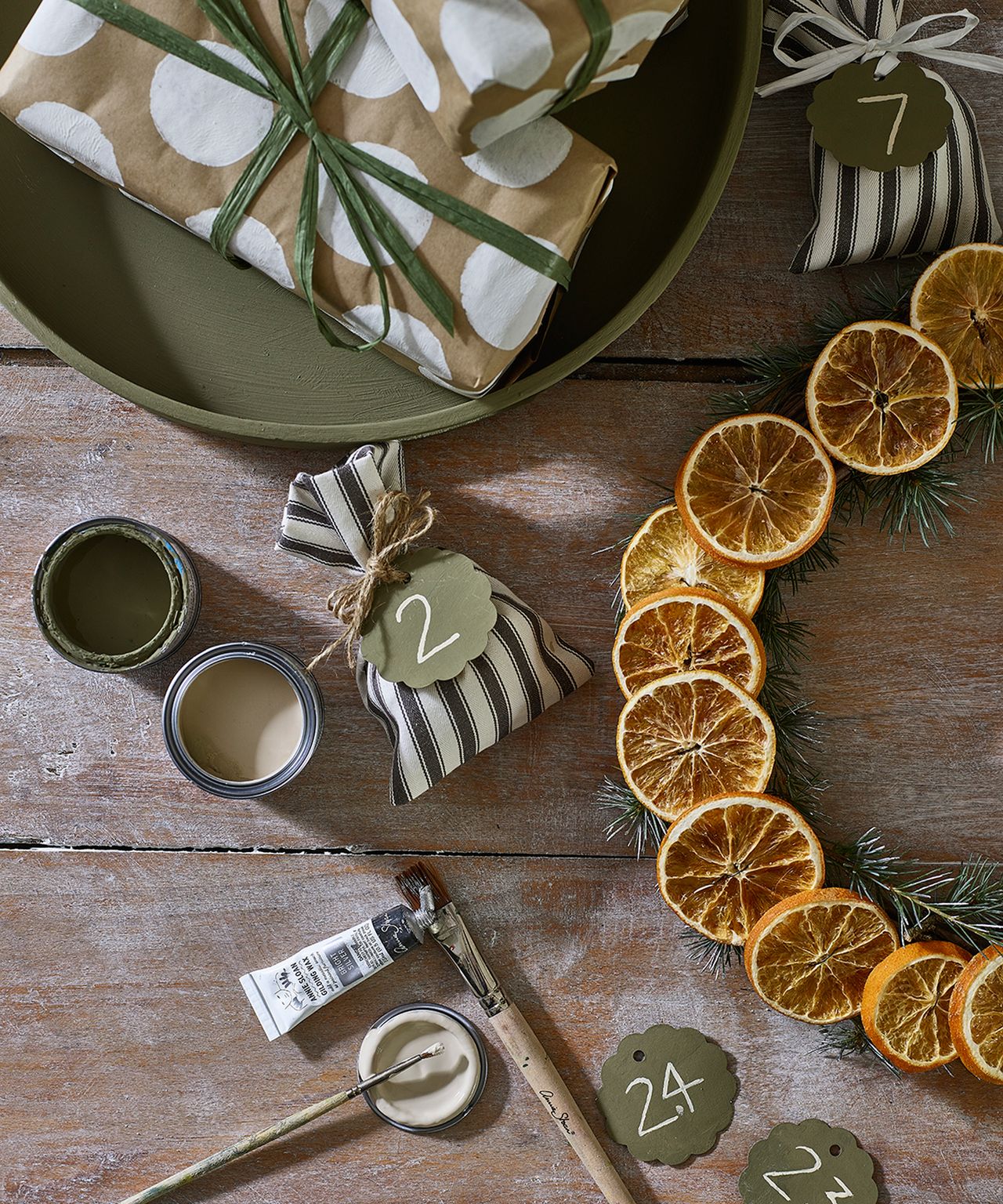 Dried oranges are such a versatile decoration that they look lovely simply draped over the branches of a Christmas tree, strung together to form a garland, or secured in a wreath. They are so simple to make too and fill the house with the most beautiful festive scent. To make dried oranges, heat your oven to 140°C/120°C, then line a baking sheet with parchment paper. Cut your oranges into slices of about 2 cm and arrange them on the tray. Bake 45min to 1 hour. Let them cool then use them as you see fit!
6. Make your own crackers this year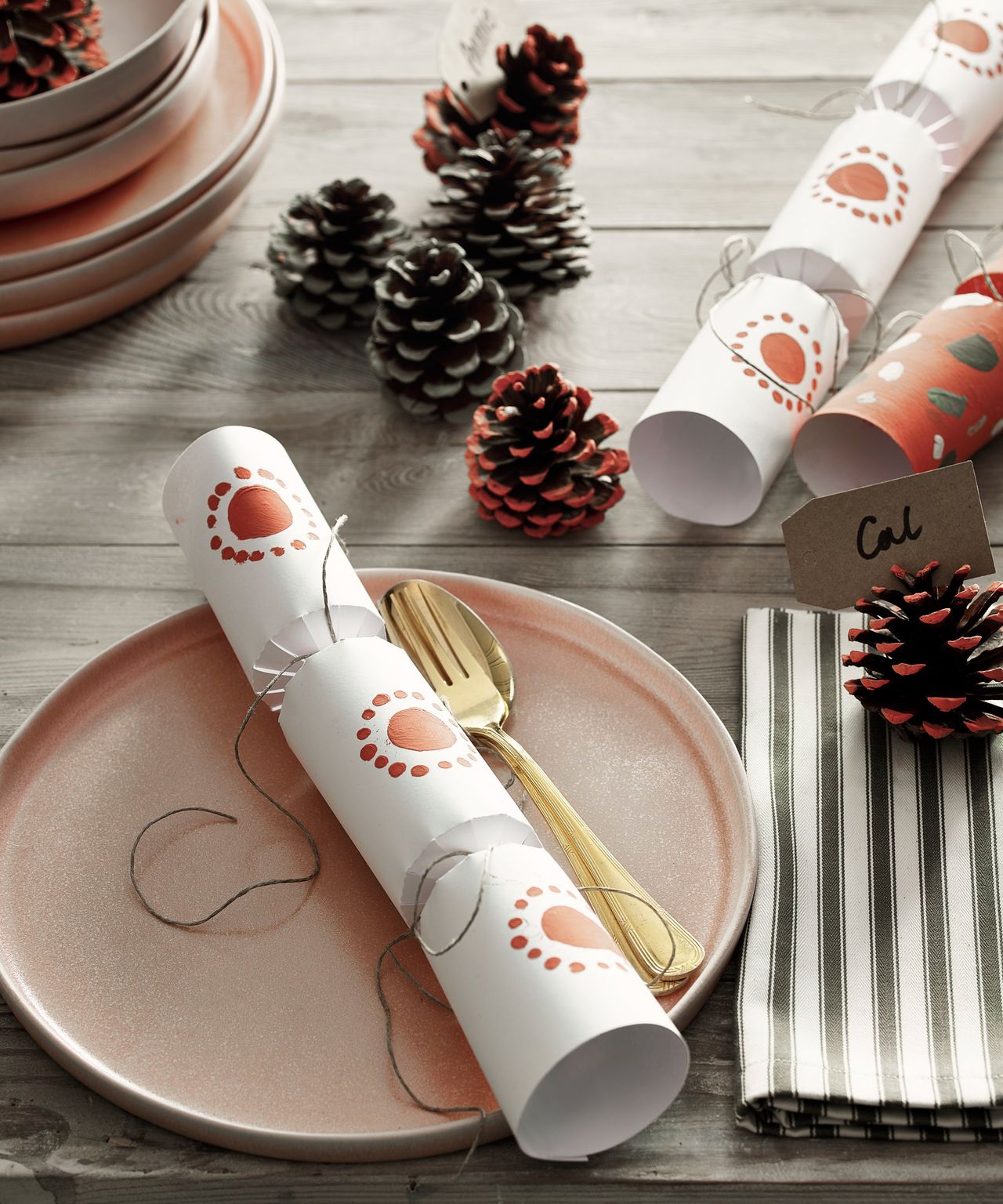 Not only are DIY crackers better for the environment, but it means you can fill them with things people really want to take home, rather than an oversized plastic paperclip and joke everyone hears. every Christmas for decades.
The easiest way to make your own crackers is to buy a kit, Etsy sells many simple paper patterns that you can really make yourself. Fill them with Christmas table favors that feel personal and actually mean something to your guests – don't forget to add the paper hats and write your own jokes!
7. Elevate your table with simple yet effective DIY decor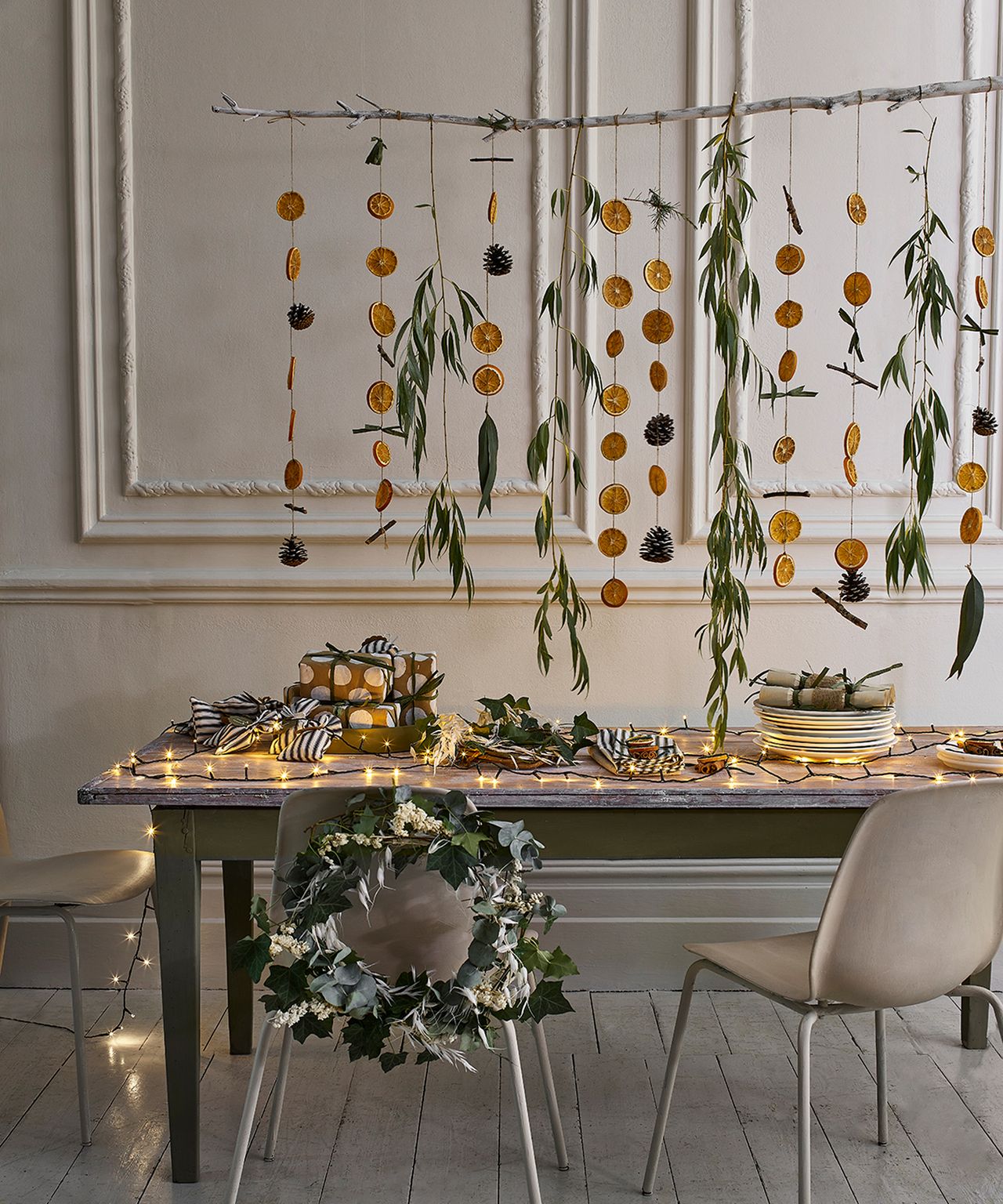 Decorations that float above the Christmas table really take it to the next level, adding something more magical than a typical centerpiece. And while they may look incredibly impressive, they can be surprisingly easy to pull off. Just find a branch that suits the size of your table and isn't too heavy as it will need to be hung from the ceiling. Then attach your choice of decorations to the branch, which can be anything from balls on clear wire and paper decorations, ivy tendrils or, as seen here, garlands of dried orange and greenery.
What's the easiest Christmas craft?
The easiest Christmas craft anyone can do is to make paper chains. And they can also be so versatile, while they could have been a bit kitschy if you stick to white paper, they can work so well with a rustic or minimalist decor scheme. The same goes for the classic Christmas craft idea, paper snowflakes, you really can't go wrong with them, group them all together and they will always look magical.
Making a wreath can also be an easy craft, if you have a head start with a good base like a moss ring or a pre-made tree wreath. Then it's just a matter of adding your own greenery and experimenting until you get a look you like.